I am grateful for the trust the citizens placed in me to represent you

and lead our spectacular city.
Thank you campaign volunteers, for your hard work!
I am honored to be elected to lead Scottsdale as Mayor. Thank you for supporting our vision of a city where the citizens are heard, where development is done responsibly and where families can thrive. I will work every day to make Scottsdale a better city for you and your family.
Congratulations to councilmembers-elect Betty Janik, Tammy Caputi and Tom Durham. I look forward to working alongside the entire City Council. If we act wisely, our community can be healthy and our economy will rebound from the COVID-19 pandemic. We will listen and lead humbly, as we craft General Plan 2035 to reflect the residents' voices. If we remain true to our values, we will ensure this great city remains a place of fellowship and opportunity.
I am proud to serve as Mayor and look forward to fulfilling that commitment everyday.
With a grateful heart,
Dave
Or

tega for Mayor: An Independent Thinker for an Independent Scottsdale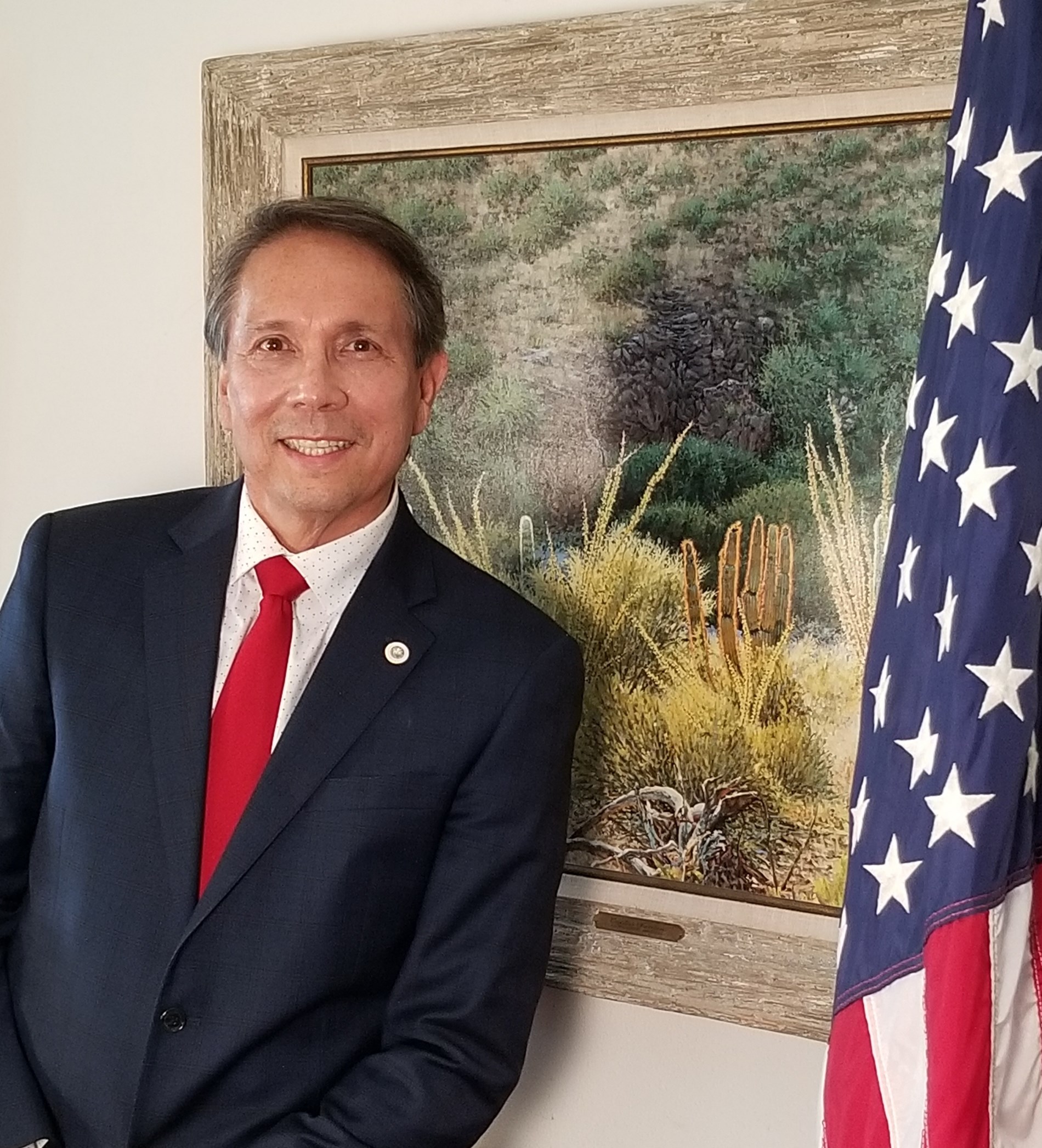 I am running for Mayor of Scottsdale because I know that Scottsdale is at its greatest when it strikes that perfect balance between quality growth, natural beauty, and strong and safe neighborhoods.
For over 41 years working as a Scottsdale architect in the private sector, my experience has been pro-development. Scottsdale pro-development respects our Western heritage, honors mountain vistas and favors low density, whether in Old Town or near the McDowell Sonoran Preserve. Our values distinguish Scottsdale and must not be cast aside.
My unwavering support for the Scottsdale Police Department began when I married into a law enforcement SPD family. Lt. Michael Gannon retired from NYPD in 1966 and joined SPD to modernize the force. Chief Gannon retired in 1989 and oversaw completion of SPD Via Linda HQ. In 1980, I married his daughter. Mutual respect for the sacrifice, vigilance, accountability and community policing required to "Protect and Serve" are embedded at my core.


Dave Ortega Key Positions:
Police protection, Fire and EMT

safety, quality reliable city services and fiscal responsibility are priorities during this COVID-19 crisis era. As mayor, working with the new council, we must efficiently align Level-of Service with revenues. On my watch neighborhoods, streets, businesses and schools will be protected.

Protecting neighborhoods

from proliferation of short-term rentals and massive block apartments is a priority. I am the only candidate with a plan to confront the proliferation of short-term rentals. My opponent for mayor embraces and is endorsed by the Arizona Free Enterprise Club, which espouses NO restrictions for short-term rentals. As mayor, I will work with municipal allies to reclaim local control at the Legislature.

General Plan 2035

written by all stakeholders must enhance our quality of life and support city economic vitality. We will move forward as a new council to preserve our legacy values.

McDowell Sonoran Preserve

improvements must be citizen-driven and voter approved. I voted YES on Prop 420. As mayor, I will ensure that gateways are completed and the Preserve remains pristine.

Voting Districts:

Representation options must be discussed to give everyone a voice. In 2004 when I was vice-mayor, I advocated and brought the Voting Districts to the ballot, which did not pass. The fact remains that not since 2008 has a council member been elected who lives south of Shea, where 65% of residents live. As mayor, I will encourage healthy discussion and bring Voting Districts to the ballot in 2022.

Buildout of citywide Bond 2019

capital improvements must move forward to expand our infrastructure.

Stronger ties to Scottsdale schools

and Scottsdale Community College are vital. We are stewards of after school programs, joint use facilities, operations and recreation for our youth and seniors.
Arizona Statute and City Charter require that every ten years, the City must conduct citywide dialogue and adopt a General Plan. In 2009-2012, when my opponent for mayor held office, the council failed to deliver General Plan 2011. Continued lack of communication fractured trust in City Hall, leading to the planning turmoil we have today.
Rather than working diligently to get resident approval the council used a patchwork height and density waivers. In 2011, the worst example was approval of Blue Sky Apartments, 700- units, located across from Fashion Square on Scottsdale Road.
My opponent endorsed and approved the Blue Sky Apartments which was so speculative that the developer went bankrupt. All that remains of the Blue Sky Apartments is the fenced, vacant blighted lot we see today.
In 2019, the SouthBridge Two developer requested 12-story towers including many height, density and setback variances. I spoke at Planning Commission and met with the developer pointing out crowding of the canal and Fifth Avenue, traffic gridlock, undermining the street and major disruptions to adjoining businesses during the multi-year construction. I took the objections directly to mayor and council, but they would not listen.
When the council majority approved SouthBridge Two, a citizen led referendum gathered 17,116 signatures to overturn the council. Eventually, the city council majority voted to reverse all SouthBridge Two entitlements.
My opponent for mayor, who resides four blocks from the proposed SouthBridge Two project, did not say one word to defend local businesses or stop encroachment on the canal, not one word.
Also in 2019, a rezoning case to locate a medical marijuana dispensary next to a school and church in Old Town nearly got approved. I joined families and area businesses in opposition and a legal protest was certified. Citizen objections forced a super majority 5-2 vote, and the applicant voluntarily withdrew.
My opponent for mayor, who resides and offices five blocks from the proposed dispensary, did not say one word in defense of the school, church or families objecting to the dispensary, not one word.
When I served as city councilman (2000-2004), I helped to craft the last successful General Plan 2001, which was voter approved. As a team, our city council gathered input citywide, from Sonoran Hills, to Pinnacle Peak, to the Scottsdale Airport, Old Town and the McDowell corridor. I have seen how council members can listen, gather diverse insights and create a powerful blueprint. As Mayor, listening and building consensus will be my priorities to craft General Plan 2035, which will be written and finalized in 2020-2021.
Residents, businesses and families should not have to act thru referendums and legal protests to get City Hall to listen. I have a proven record of defending neighborhoods, families, small businesses and Old Town character.
I am asking for your vote and financial support because we must reclaim our citizen-driven, business-friendly, hospitality-centered future. Please join my campaign and share your energy and talent.
Very truly yours,
Dave Ortega

Mayor Elect of Scottsdale Arizona
PS: In spite of lobbyists and zoning attorney attacks, we prevailed. Thank you Scottsdale!
Sign Up for Updates
Thanks for signing up!